Self-Talk
written by Amanda Jones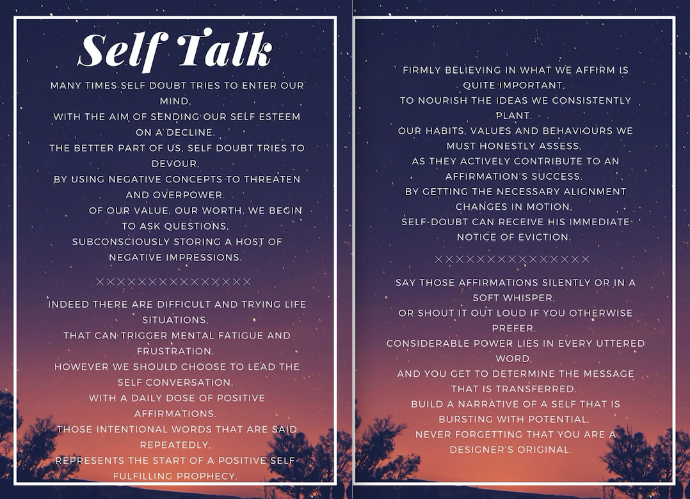 Every week Engel and I go on a fun, explorative, conversational journey. 
It begins by choosing one of the words Engel uses in his personal development coaching. 

Then we choose one of my poems that align. 

Finally, we host an online event, sharing and opening up the conversation. 
"Self-Talk" was the poem we used for our seventh event or as Engel would say, Episode 7. This blog serves as our virtual space for sharing what we learned. Thanks to all who attended and we look forward to you attending again.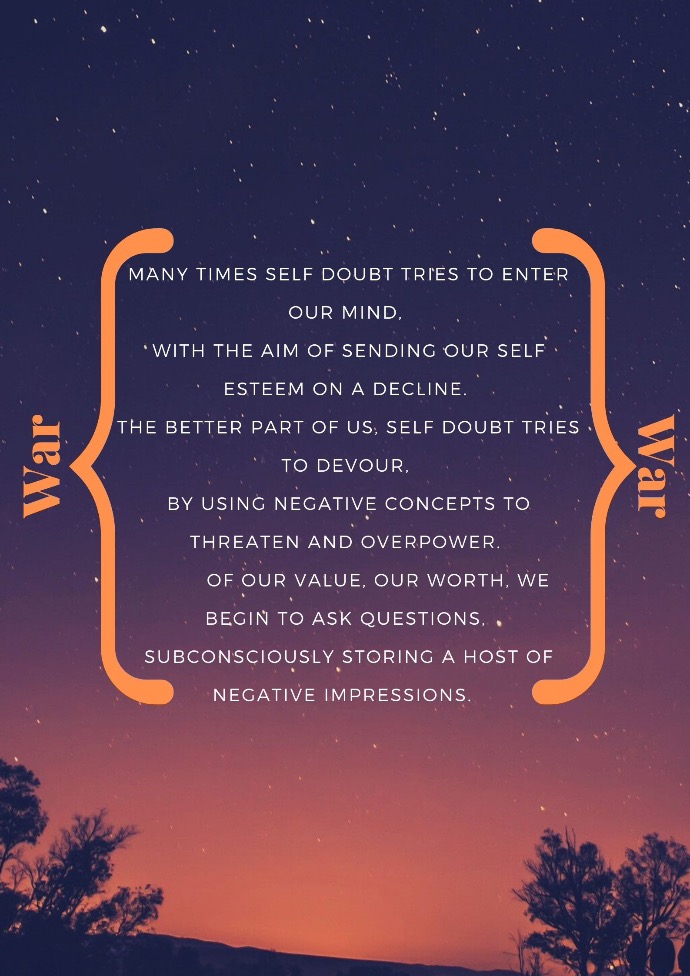 War
Is it important to set boundaries in the defense of our mind? Yes it is. Believe it or not our mind is under constant attack with self doubt being a perpetrator. Whether self doubt is being directly flung at us like a canon ball, or takes on the likeness of a trojan horse, we must be watchful and ready to defend. Our established boundaries help us to fend off the barrage of external input that tries to undermine our value, our worth. Daily, through affirmations, we fight in the battlefield of/for our minds with the aim of also winning the war.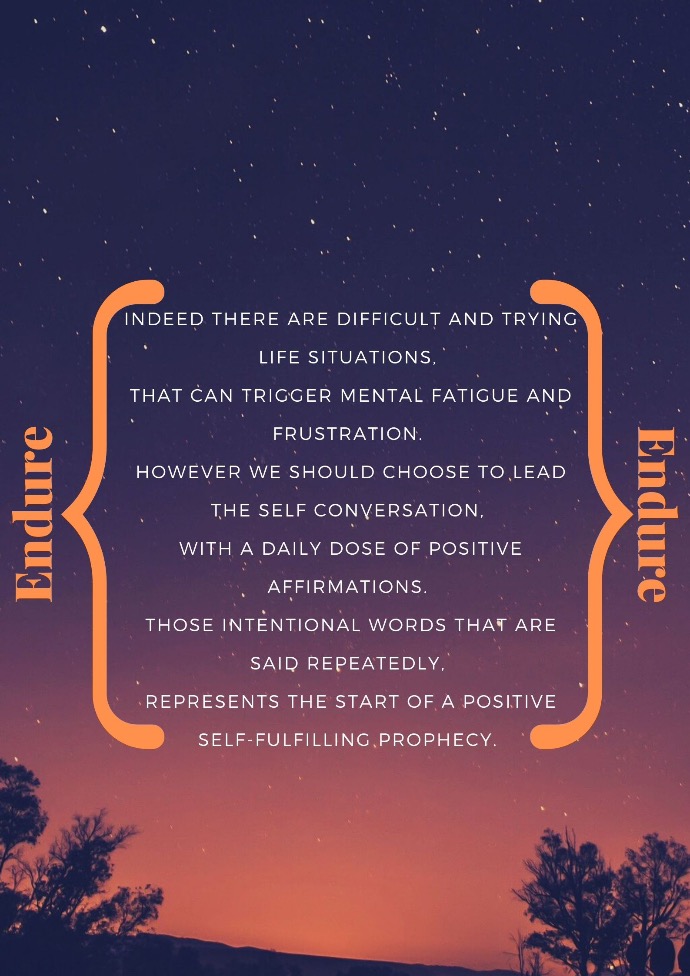 Endure
Winning a war requires a degree of endurance throughout the battles along the way. Our affirmations are our battlecry in those real and very human times of feeling fatigue, frustration and near defeat. Self talk, through affirmations, is an intentional encouragement to dig deep, to find the gumption needed for breaking free from the hold of self doubt. It advances us to triumph over the trials that self doubt presents to us, while building our confidence to stand our ground.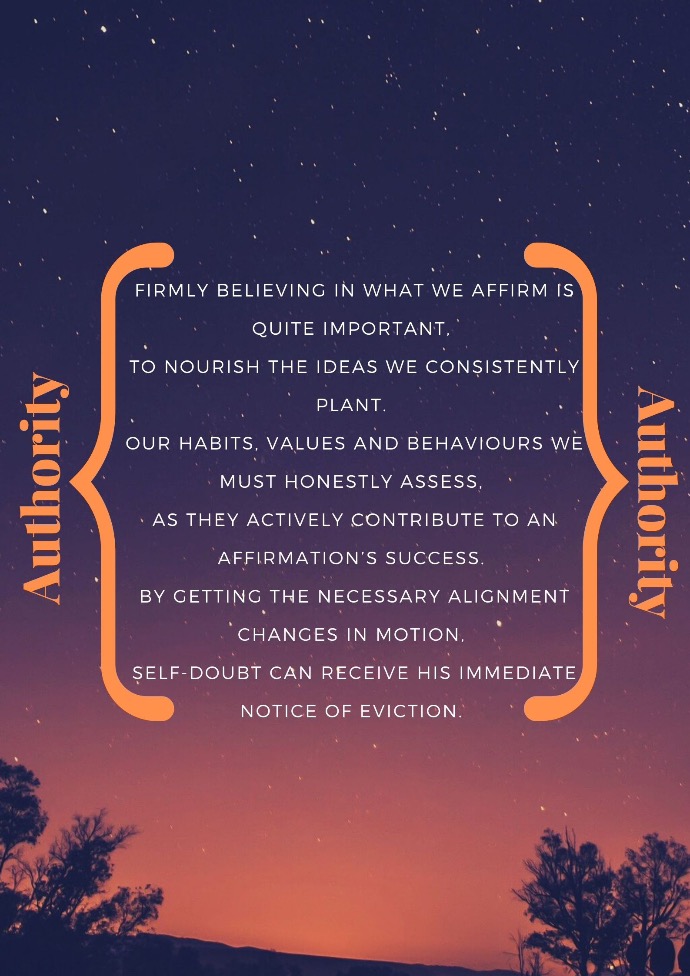 Authority
The phrase 'fake it until you make it' has been popularized within personal development and goal setting forums. It suggests that if we imitate certain qualities, over time, they will manifest in our lives.  A key tenant that supports this, is the chain of events that occur when affirmations are said. Scientists have proven that the consistent and repetitive nature of an affirmation creates a mental picture that conditions our brain into accepting it as a fact. Facts combined with our earnest belief and a growing self confidence in our abilities, initiates the action required for us to assert our authority over self doubt.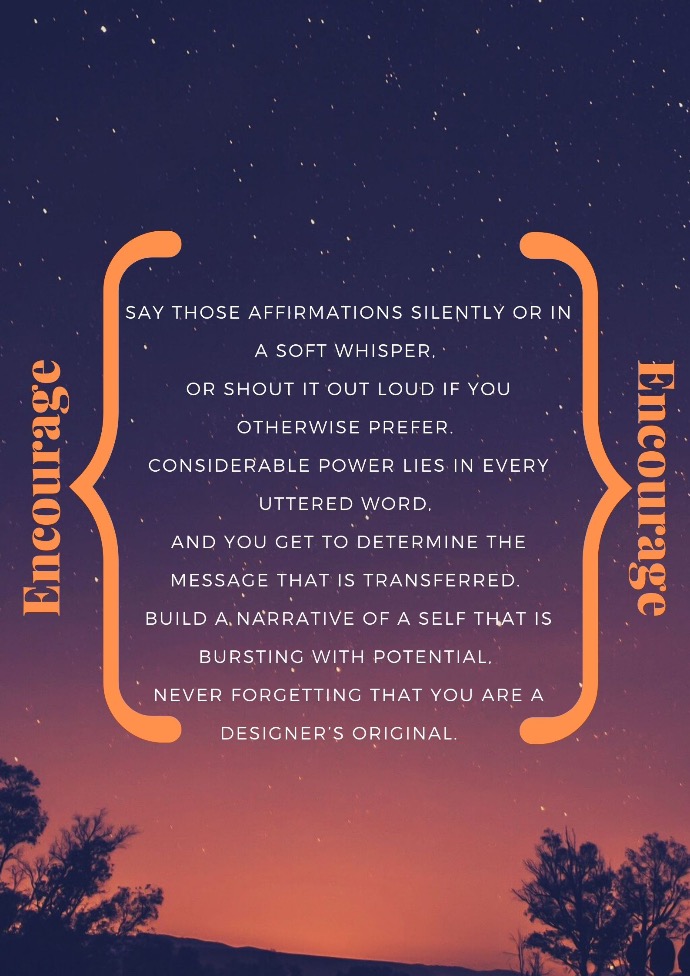 ---
Encourage
Our voice is is our unique superpower. It can dispense life altering truths to us. When the din of negative external voices begin to escalate, we need to draw on our superpower to quell this disturbance. The affirmations we voice should resonate in every area of our life. To every reader of this blog, I offer the words, 'Be Encouraged, Affirm Yourself'. 
Self-Talk