The Old, Green Iguana
written by Amanda Jones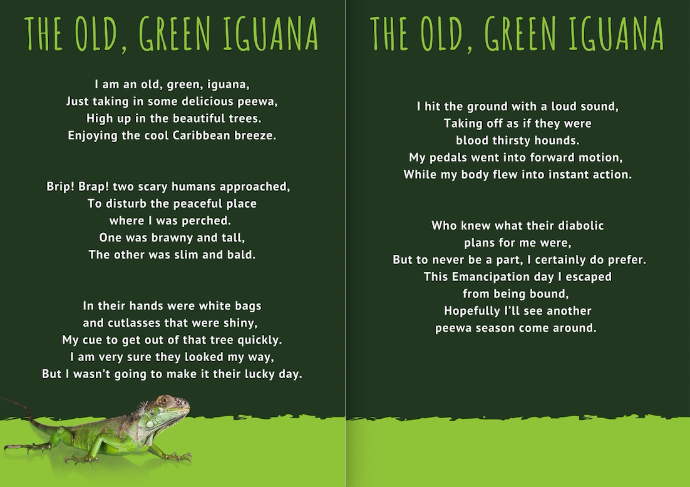 Every week Engel and I go on a fun, explorative, conversational journey. 
It begins by choosing one of the words Engel uses in his personal development coaching. 

Then we choose one of my poems that align. 

Finally, we host an online event, sharing and opening up the conversation. 

"The Old, Green Iguana" was the poem we used for our ninth event or as Engel would say, Episode 8. This blog serves as our virtual space for sharing what we learned. Thanks to all who attended and we look forward to you attending again.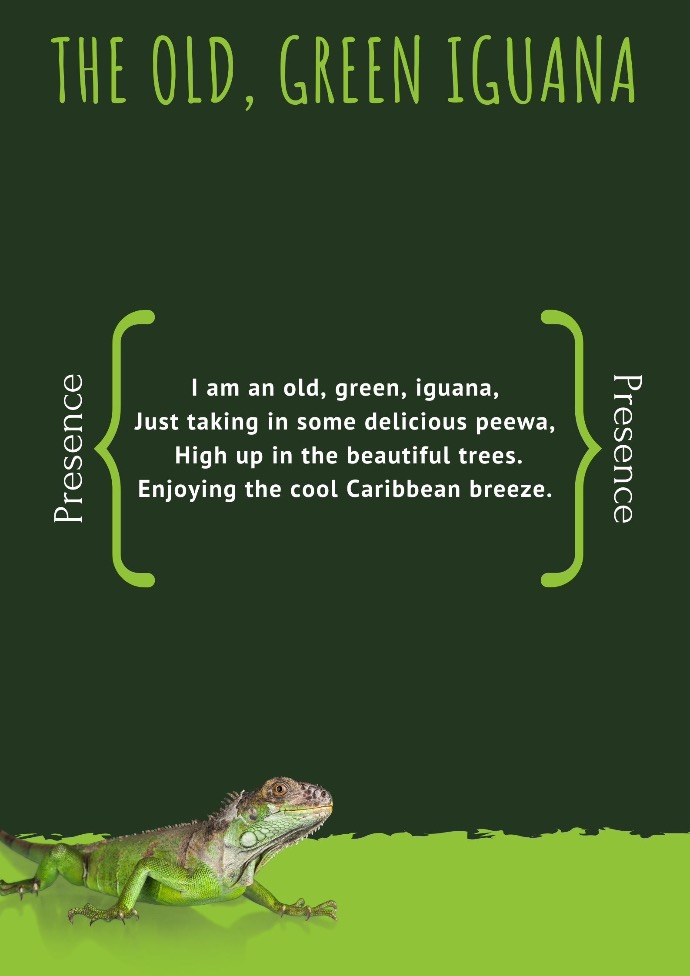 Presence
In this true story, the unheard, probable perspective of the iguana is used to highlight some important aspects of a PLAN. Being present in the moment can help us to identify and appreciate who we are, where we are and why we are here. Mindfulness of each moment can help us to stay focus on our goals, our vision, our purpose. These desired future accomplishments have a magnetic pull on our present actions. It brings a level of clarity that is necessary in decision making when formulating a plan. A plan to turn our present situation into the future reality we desire. One miscalculated decision, could change the direction in which a plan unfolds.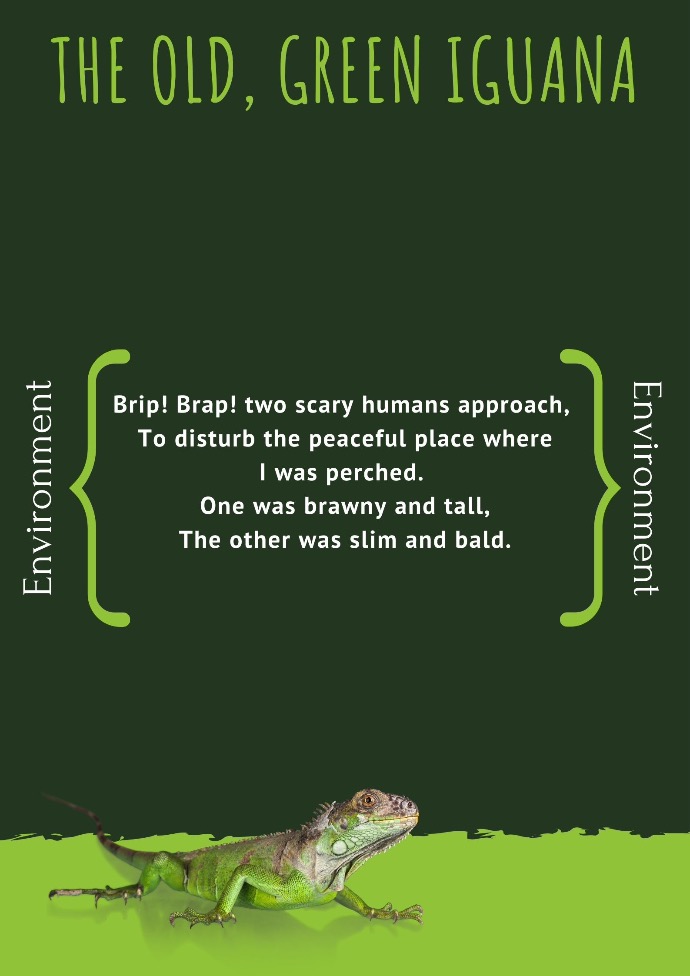 Environment
Additionally, there are cues in our environment that influence our thoughts and behaviors. Those thoughts and behaviors can ultimately help or hinder our overall plan of action. Environments common to us all are our home, our workplace and the spaces in between. Over some, we have more control than others. Maintaining control requires continuous analysis and setting of boundaries to optimize the conditions to excel. What we capture in this observation process raises our level of awareness.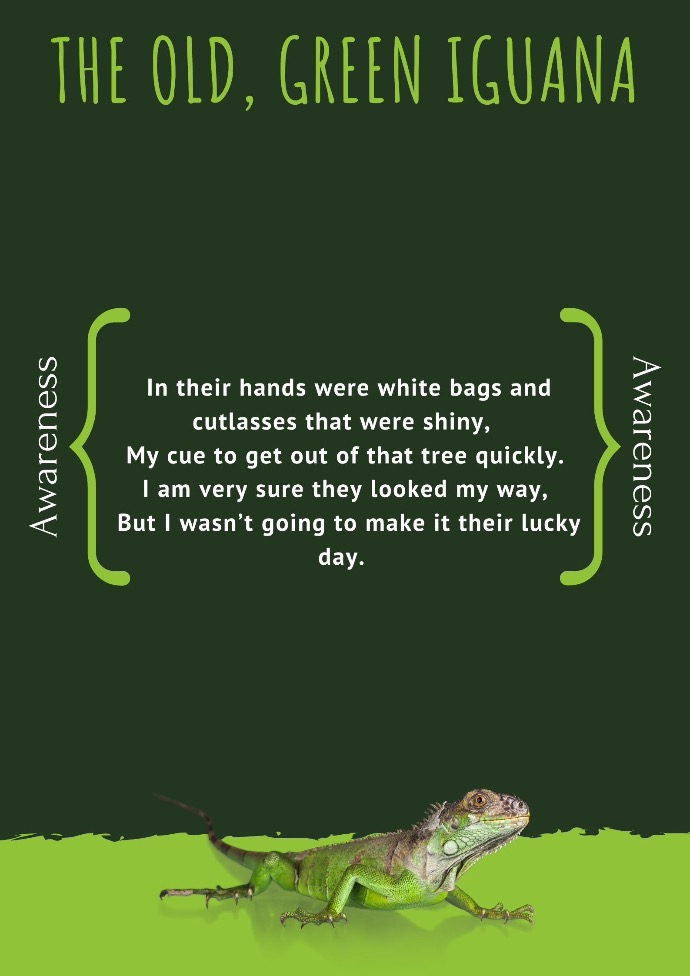 Awareness
A plan of action requires a trigger to set off, not just any response, but a favorable response. The combination of being mindful, and the processing of our environment, work together to bring the trigger of awareness. Awareness mixes the internal and external observation of self and surroundings, which then activates movement within our plan. We become fully conscious of the different parts involved to produce a whole decision. In not so many words, recognition brings motion to either stay still, advance or retreat.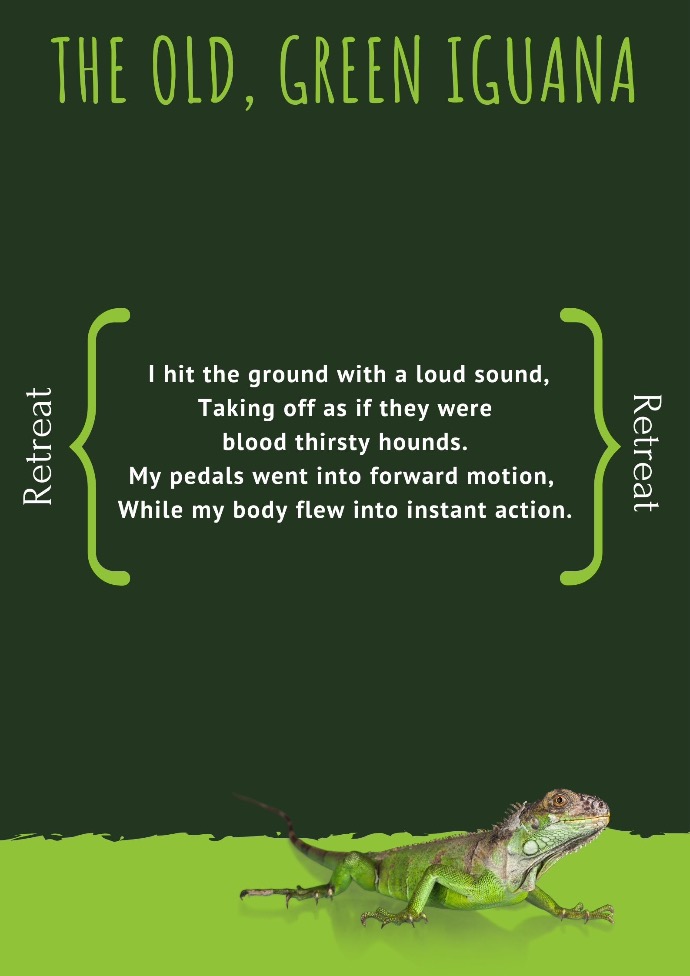 Retreat
The association of the word retreat, which is an act of moving back or withdrawing, often carries a meaning synonomous to failure or defeat. The plan of this iguana, whether it was premeditated from past knowledge and experience, or instinctly spontaneous, became necessary for his survival. Sometimes in life a retreat from our plans is needed to rest, rejuvenate and renew our perspective, generate new ideas or chart a different way forward. Overall, a retreat can bring alignment to our planning and personal growth cycle.
Cycle
Life has so many dynamics, so many moving parts to it that can really catch us off guard and trap us in growth stunting cycles. The vigilance needed to spot this comes from a divine plan established long before we could even consider a plan of our own. Our trust in God's plan is the guarantee that even though seasons within our life will change, our path will be directed. Our hope should be steadfastly tied to, not the plans others have for us, not our selfish, exclusive plans, but to God's plan that surpasses all. Sometimes we get far ahead with planning only to discover we missed a consultation with The One who has already seen the future we are attempting to make a reality. Who knew? the old, green iguana ruminated. Plan with the persuasion that God knows.
Your Dynamic Snippet will be displayed here... This message is displayed because you did not provided both a filter and a template to use.

The Old Green Iguana