Waiting on Wings
written by Amanda Jones
Every week Engel and I go on a fun, explorative, conversational journey. 
It begins by choosing one of the words Engel uses in his personal development coaching. 

Then we choose one of my poems that align. 

Finally, we host an online event, sharing and opening up the conversation. 

"Waiting on Wings" was the poem we used for our sixth event or as Engel would say, Episode 6. This blog serves as our virtual space for sharing what we learned. Thanks to all who attended and we look forward to you attending again.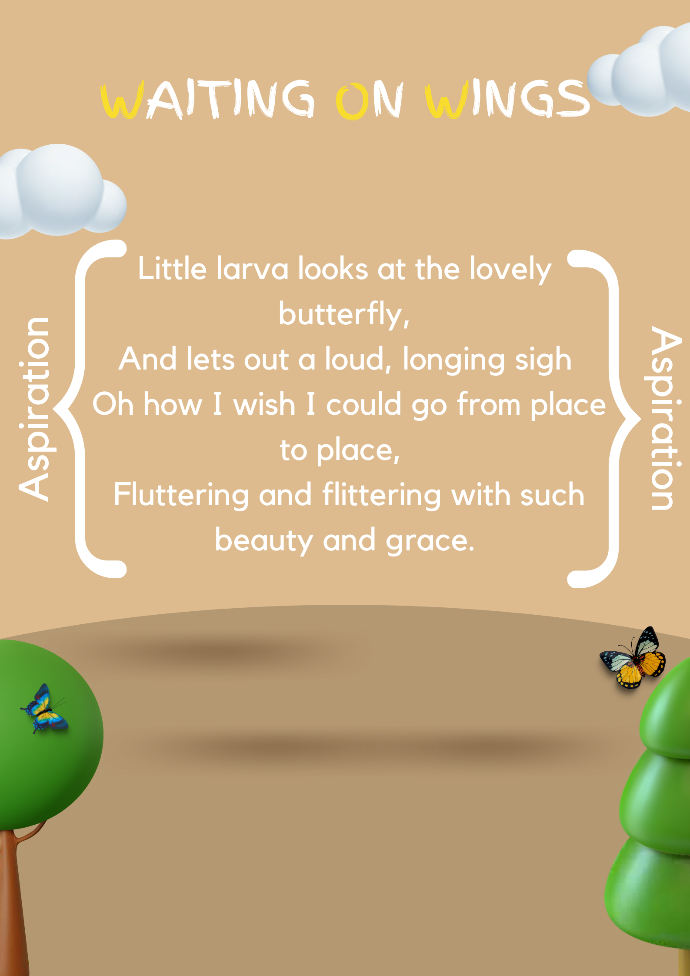 Aspiration
It is absolutely amazing how much nature can teach us about our own circumstances. This poem was originally written with children in mind. Then, upon further reflection I saw that even as adults these words are what we all need to hear from time to time. Sometimes in the pursuit of our goals and aspirations, the bar which we set for ourselves can become a bit overwhelming, sometimes to the point of failure. Our response to being unable to live up to these aspirations is a huge indicator of the level of our self esteem.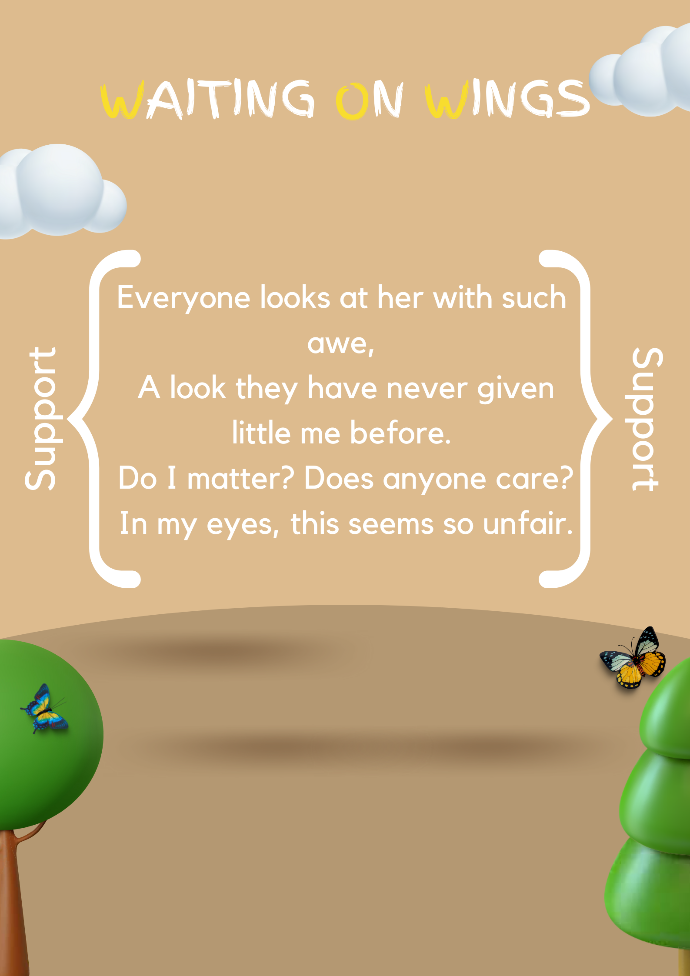 Support
Our self esteem and overall well being is greatly affected by the availability of support in our corner, in the good and not so good times. We appreciate the network of support we can access via friends and family. Through their counsel and feedback some of the most sobering and eye opening words have been imparted. They have shown recognition that support can take on a different presentation based on the need at the time. Whatever form it takes it is a symbol of hope.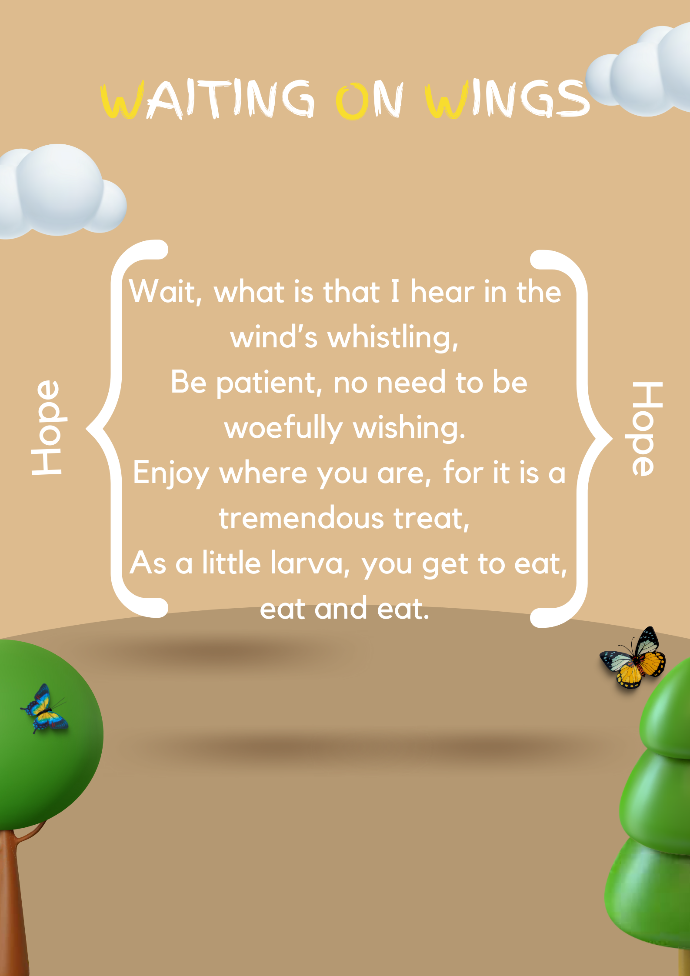 Hope
When others believe in you and your potential, it conveys a message of hope. There is an expectation that the manifestation of greatness within you is just on the horizon. That's one part of the equation. The other lies in self recognition and appreciation. This powerful combination fuels the engine of your present self to be continuous in the pursuit of purpose, goals, dreams and aspirations. Both Engel and I have taken on the mission of having and giving hope. How did we learn to direct this hope? We discovered it through actively listening.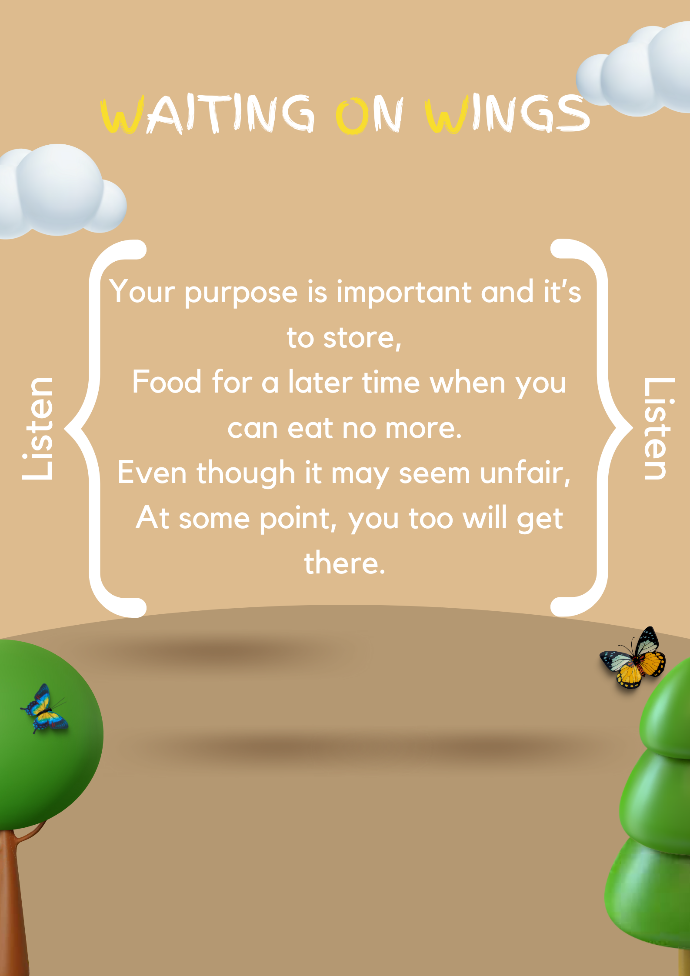 Listen
Listening is an important part of effective communication. To know someone is actively listening to our heart's cry contributes to a raised level of self esteem. The space that we hold matter. When that space is validated by an unbiased response that brings truth and enlightenment we should acknowledge its sincerity. Do we stop hearing or do we also reciprocate listening. It calls on us to exercise humility and address any identified shortcomings. In so doing, the possibilities for growth are endless and the will to succeed is renewed.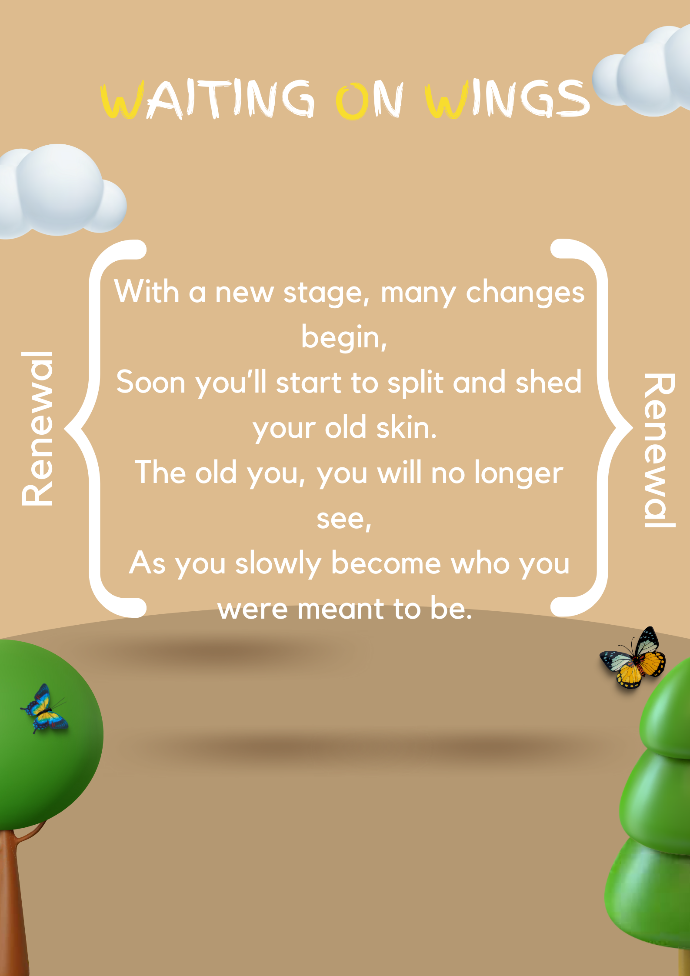 Renewal
When I think of renewal peaceful thoughts first come to mind. It is associated with the tranquility of an early morning, sprinkled with a gentle shower of rain. Then I ponder a little longer and those thoughts are met with the reality that not all renewal is so delicate. The task at hand for the latter experience is finding ways to still feel good about ourselves even though the process may bring some discomfort or pain. We visualize ourself at the final destination but keep a realistic view of our present situation. There is much to be learnt at the various stages in our lives. Our acceptance that each stage ultimately empowers the next, helps in the transition.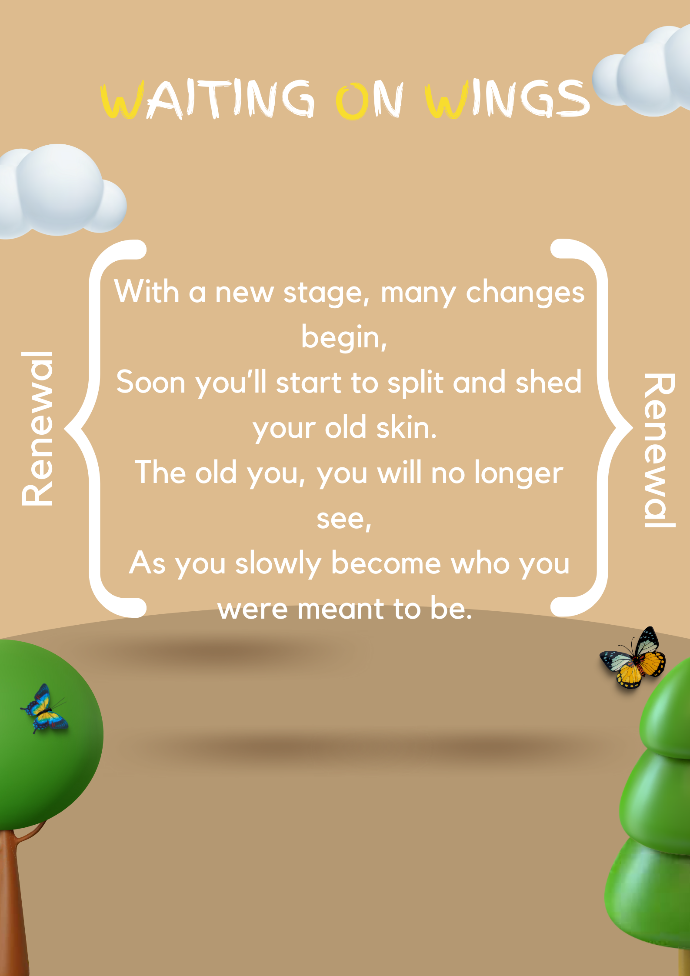 Acceptance
Are we willing and ready to embrace the journey of self-improvement? This journey is an ever evolving one where looking in the mirror is both literal and figurative in nature. I remember the time when we wanted to improve the financial aspect of our lives. We accepted the fact that our desire to be debt free wouldn't come with knowledge of financial principles only. Our mindset and behavior towards money needed to change. This newfound attitude accompanied by action steps took us through a life changing process. A growth mindset was ignited in every area of our life. We received and accepted the wings which were waiting on us. Are you ready for your wings?
Waiting on Wings