Wisdom and Folly
written by Amanda Jones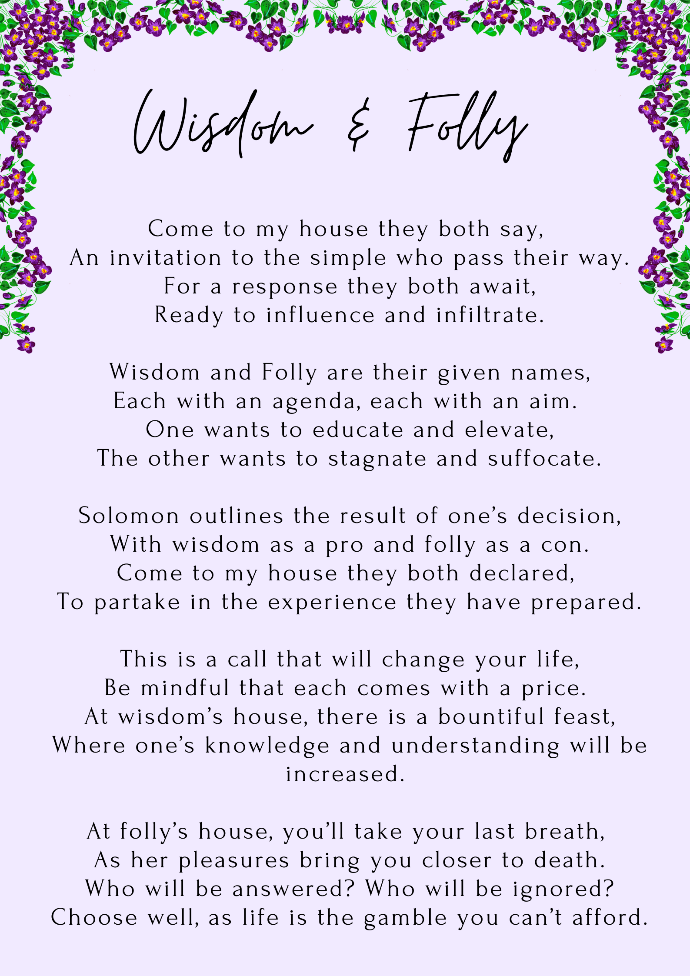 Every week Engel and I go on a fun, explorative, conversational journey. 
It begins by choosing one of the words Engel uses in his personal development coaching. 

Then we choose one of my poems that align. 

Finally, we host an online event, sharing and opening up the conversation. 

"Wisdom and Folly" was the poem we used for our eight event or as Engel would say, Episode 8. This blog serves as our virtual space for sharing what we learned. Thanks to all who attended and we look forward to you attending again.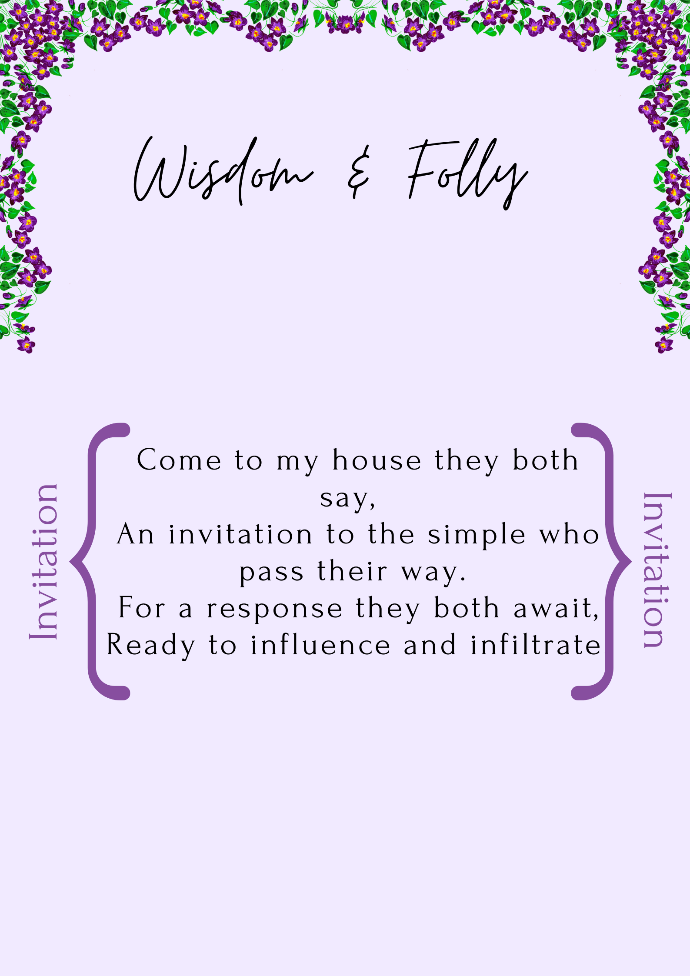 Invitation
In the event planning stages of any occasion, alot of preparation precedes sending out an invitation. The work done is meant to influence the decision of the invitation's acceptance and successful attendance to the event. It's design and delivery sets the tone for the occasion. So what happens in the decision making process, when competing parties issue an invitation in a similar fashion, as in the case of Wisdom and Folly? Their motives are brought into question.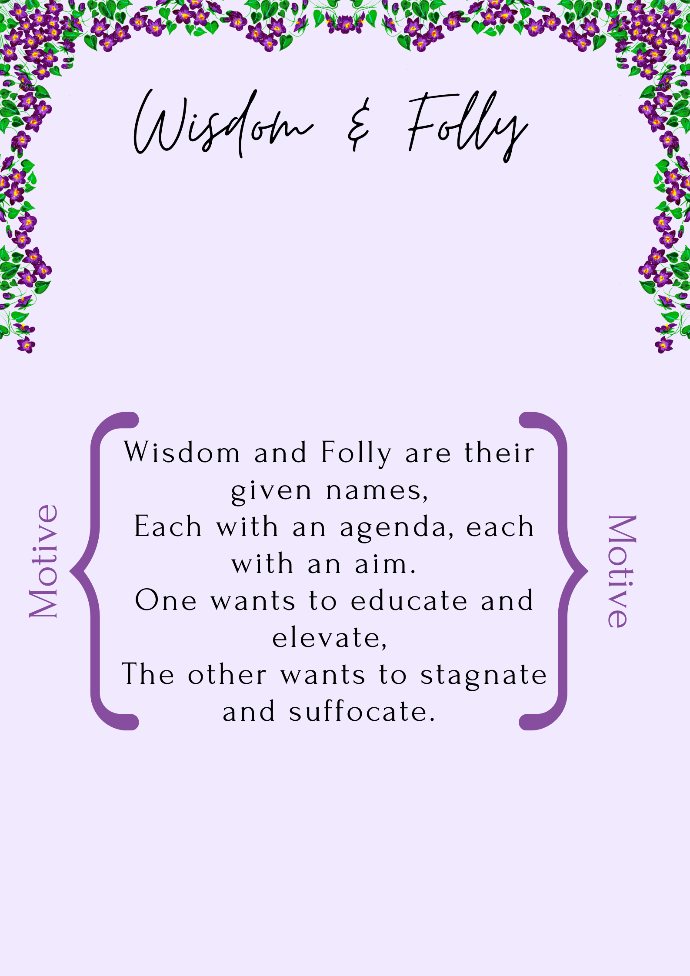 Motives
Being the target audience of two stalwarts in the principles of living prompts us to consider the motives in which their invitation is enveloped. Even though they may be presented with similarities their true motives can be discovered from what exists in our circle of influence. God, family, friends and past experiences are just some of our closest influencers who can bring enlightenment. Making a choice is a transitional moment that can have far reaching effects when motives are played out.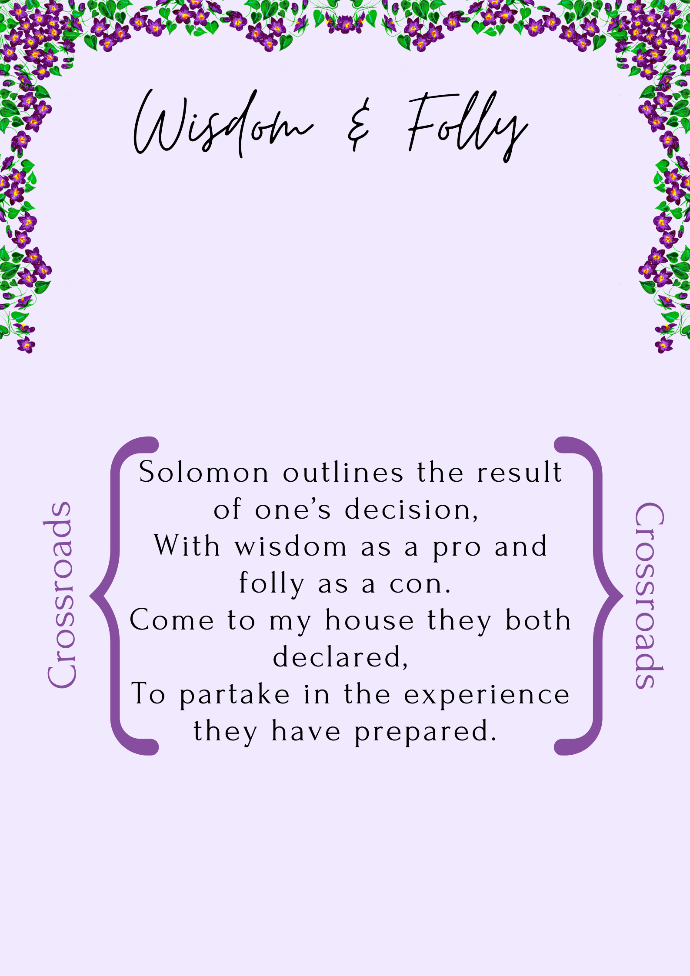 Crossroads
Location is everything and that transitional moment offered in the content of the invitation, pins its location at a crossroad we may have never encountered before. This is where any semblance of a similarity, between Wisdom and Folly, ends. Each takes us on a directional path to an eventual experience that is life altering. They we will be greeted by the consequences of each decision.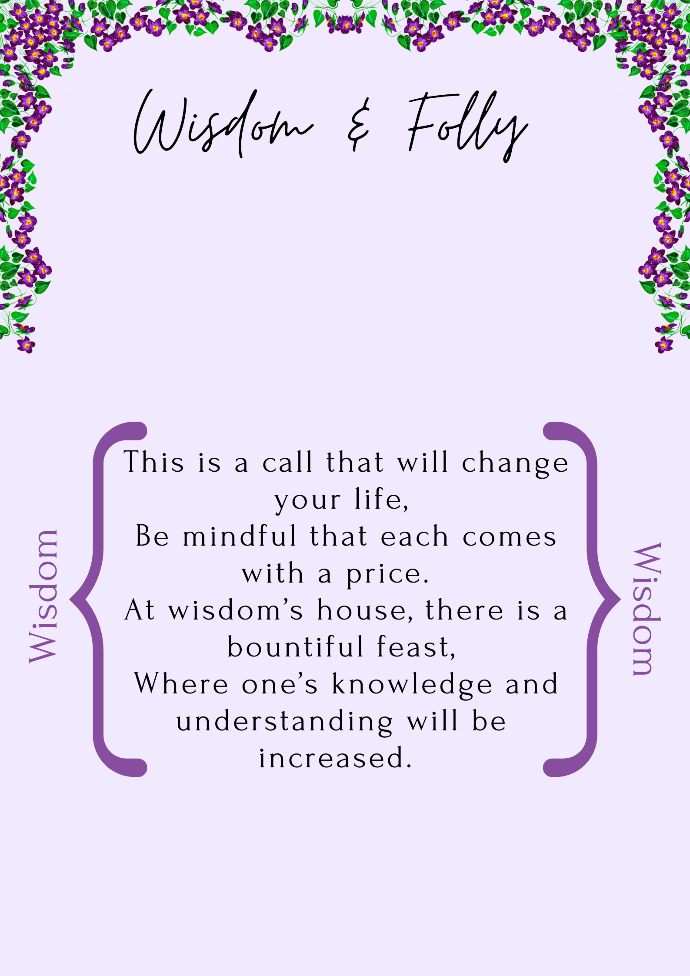 Wisdom
How enticing is the promise of a bountiful feast? We can tell it really is, as Wisdom clearly describes it in the subject line of its invitation. The take home from this event is an increase in knowledge and understanding. This however requires a demonstration of humility to see truth, a willingness to learn and a decision to make changes accordingly. To eat at Wisdom's table is a very favorable opportunity that supports our freedom to live a meaningful life.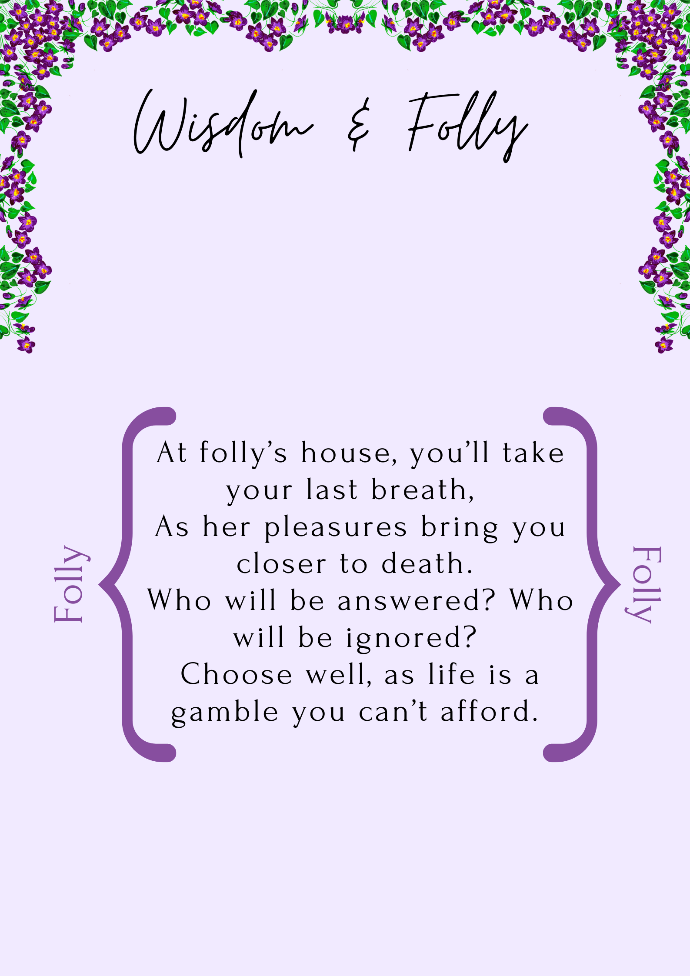 Folly
Folly's invitation comes with a promise of pleasure however it does a great job of disguising the pitfalls that are associated with it. The opportunity for pleasure is short-lived as folly's destructive nature consumes the blind follower. Life in Folly's hold has a grim presentation.
Both Wisdom and Folly gives an invitation that is activated by our decision. Sometimes in life we are called to make decisions that are risky. We take a gamble with the hope that the one we are making will bring our desired result. Guided by the trio of experience, knowledge and deep understanding, our decisions can be wisely made.


Your Dynamic Snippet will be displayed here... This message is displayed because you did not provided both a filter and a template to use.

Wisdom and Folly